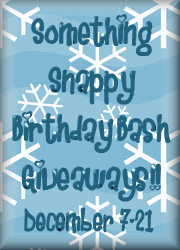 "Welcome to my Birthday Bash!! For the next two weeks I will have one awesome giveaway every day!!
Do you love taking video of your kids but hate lugging that video camera around? With a Flip Video you never have to lug that camera around again! Stylish, small and chic the Flip Video
fits in the palm of your hand, your pocket or in your purse with ease.
The Flip Ultra has 2GB of storage so you can shoot up to 1 hour of DVD quality footage! Simple to use - point and shoot. When you're ready to upload your video all you do is "flip" out the USB and plug it into your computer! It comes with its own software for editing and saving. Video has never been easier!"
Click on the link below to find out more....